Back to www.eastgroundrecords.se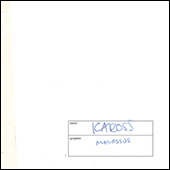 Reviews of Kaross´ album "Molossus":
5 september 2007 at Swedish site www.metalnyheter.se:
IN SWEDISH
Rating: 5/6
Att Skövde och Falköping numera bestod av både träskmarker och rena ökenområden var en stor nyhet för mig. KAROSS som är bördiga från nämnda orter visar onekligen att det svenska klimatet är under förändring. Ena stunden fläskar de på med syndigt tunga riff som doftar både CORROSION OF CONFORMITY och DOWN och plötsligt känns det som att New Orleans har förflyttats till vårat avlånga land för en stund. Nästa stund befinner vi oss i Kaliforniens stekande sol med utsvängda byxor och KYUSS i bilstereon. Just mixen av nämnda band är också det som gör KAROSS så otroligt bra. De har verkligen plockat ut russinen ur kakan och skapat sig något så eget som det nu går att göra. Stilen i sig är svår att få till på ett originellt vis men jag tycker att KAROSS lyckats riktigt bra. De kommer säkerligen att hamna i samma fack som låt oss säga MUSTASCH eller SPARZANZA men tycker själv inte att de är likt något av de banden. Magnus Knutas vrålar på i bästa "spräcka lungorna"-anda medan de övriga tre ackompanjerar honom på bästa tänkbara sätt. KAROSS har onekligen låtar som sätter sig och jag skulle inte bli förvånad om de i framtiden skulle komma med en video som blir en stor tv vältare.

/Daniel Eriksson
26 august 2007 at Finnish site www.chambersmagazine.com:
IN FINNISH
Ruotista ponnistava Kaross tarjoilee kuulijalleen hyvin rokkipainotteista stoneria. Kitarat veivaavat hyvin rullaavia riffejä eteenpäin ilman sen kummempia ongelmia ja rytmiryhmä tukee jurnutusta varmoin ottein. Laulu on karheaa, melodista ja sangen miehekästä. Henkilökohtaisesti survoisin retkueen jonnekin kotimaisen Riten ja meren takaan vaikuttavan Fireball Ministryn välimaastoon. Siellä täällä kuullaan hiukan hempeämpiä vokaaleita, ihan ujojen stemmojen kanssa ja tämä tuo perusräyhäämiseen ihan mukavasti lisäulottuvuutta.

Vaikka levyllä ei ole mitään varsinaisesti väärin, on lopputulos hiukan tylsähkö. Suurin syy on vokalistin viimeistelemätön ääni. Se ei ole tarpeeksi rähjäinen eikä myöskään riittävän moniulotteinen ja tämän takia monet kohdat jäävät hiukan vajaiksi. Tämä yhdistettynä levyn osittaiseen junnaamiseen, tilanteisiin joissa odottaa jotain tapahtuvaksi, mutta tylsä säkeistö ei vain yksinkertaisesti syty missään vaiheessa täyteen liekkiin. Hetkensä tällä levyllä on, mutta kokonaisuus on hiukan väljähtänyt.

/Olli Ripatti
25 august 2007 at German site www.daredevilrecords.de:
IN ENGLISH
Rating: 9/10
Melodic Heavy Rock, with some Stoner Rock elements - Kaross is another great band from Sweden and I have to say to my shame that I haven't heard of them before. And their debut is a big surprise! Sounds very professional and not as a debut often does. CRIMSON SKIES is a real Stoner Rocker, forward and straight in your face! The following SHOVEL reminds of a mix of Glam Rock, Blues and Stoner Rock. Musically close to some STONE TEMPLE PILOTS stuff. MEAT ME starts again with some STP feelings and turns into a fat heavy groover! It is one of the highlights on that record! The following KIODO BLACKOUT shows again the melodically side of the band! Especially the vocals from Magnus are awesome and not far away from the top-singers in that genre! Unbelievable! You will find 50% awesome heavy rockers with some melodically parts and 50% kicking Groove-Rocker ala BONG SONG or COSMOPOLITAN. Not to forget straight forward rockers like JOHN DEAR or BURNED CIRCUIT. A lot of different stuff on that record, but it fits perfect and is homogenous! Song for song! The whole record is varied and shows the class of the band! KAROSS is a huge mix of THE CULT, STONE TEMPLE PILOTS, BUCKCHERRY and MONSTER MAGNET. Great debut – a must have for Rock lovers!

Music: Stoner Rock
Sound: 9
Music: 9

/Jochen
17 august 2007 at Swedish site www.realtid.se:
IN SWEDISH
Gruppnamnet Kaross säger en del om hur det här låter. Väldigt proffsigt och hårdrockigt. Såå säkert. Tänk Soundgarden, Danzig, Mustasch, LOK – i en metallegering som är allt annat än trendriktig men mitt i den så kallade – åtminstone sedan ungefär-precis-just-nu – ådran.
Kaross är från Skövde/Falköping och kvartetten har existerat sedan 2001. I december 2005 vann de – som de sanna världsmedborgare de är – Partillerocken. Molossus är gruppens debut och den visar att de menar allvar – eller åtminstone business.

/Timo Kangas
17 august 2007 at Danish site www.antenna.nu:
IN ENGLISH
Rating: 8/10
Originality: 5.0 | Continuity: 7.5

Molossus is one of the debut albums that has surprised me the most in recent years [and furthermore the best debut album I've heard this year]. As too many stoner rock/metal albums tend to bore, Molossus is a refreshing acquaintance as both the stoned and heavy drive are supplied with significant and convincing vocal hooks. In favor of Molossus also counts the contemporary sound and production that make Kaross sound topical and not out-dated as heard with quite a few of their peers.

The main part of Molossus offers songs deriving from the legacy of Black Sabbath [just listen to the opening "Hole in the Sky"-like riff of "Jam"], Led Zeppelin, Kuyss, Fu Manchu and similar acts. A few times psychedelic influences are added to the songs, yet in amounts that doesn't make the songs introverted or boring - just add another flavour to the album. And this balanced expression in each song is one of the key factors why Molossus is so appealing – most songs simply stand out on their own and they don't become a big blur of formulaic tunes. Also the simplistic nature of Molossus needs to be mentioned as one of the strong points, as Kaross has figured out that you don't need to play tons of notes to rock out – things actually get across better when using only a few but rhythmically placed notes and you can still maintain a depth in music as well.

Highlights on Molossus count "15+" with its opening slow stoned drive which later on explodes and its great vocal melodies, the boogie metal tune "Shovel", the insanely heaviness of "Meat Me" and the 70's groove of "Bong Song" just to the name a few. Actually there are only a few tracks here that sound superfluous and Molossus receives a full recommendation to those of you looking for a band playing contemporary desert/stoner rock/metal in convincing manner and who doesn't make their 70's influences sound outdated.

/L-H-J
13 august 2007 at Swedish site www.globaldomination.se:
IN ENGLISH
Rating: 7/10
So this is stoner metal?

I've never really sat down and listened to a stoner rock/metal band. Sure, I've heard random tracks in passing, but the very idea of the style was never a turn on. I like my metal to be very catchy, technical, melodic, or have a sense of urgency. That's why I never bothered with bands like Spiritual Beggars, Kyuss, or sHEAVY. Black Sabbath was about as stoner as this boy got. After taking a liking to stoners Black Stone Cherry, I decided to take a chance and review "Molossus," the new album by Sweden's Kaross.

And I'm glad I did.

No, I'm not suddenly stricken with the sense that I've been missing out all these years, but Kaross do a good job of convincing stoner-phobes like me that there is a lot more to the genre than simple plodding and uninspired power chord riffs. First off, this album just sounds great. The bass is up front and heavy, rolling the songs forward like a tractor stuck in 1st gear. The bass chugging conjures images of an idling 18-wheeler; its diesel-powered engine rumbling and spewing out thick, noxious smog. It is balanced nicely by the guitar, which although thin, has a strong, sharp tone.

Although the album sounds great, the songwriting is what really drives the album. Tracks like "Shovel" and "Kiddo Blackout" are heavy, catchy, and written as well as any of the songs I've heard from the stoner rock biggies. In fact, "Shovel" can almost pass as a less apocalyptic version of the Sabbath classic "Children of the Grave." The similarities are there, trust me.

While no one in the band gives a truly remarkable performance, the listener won't care considering the quality songwriting and production. "Molossus" is a solid stoner rock album that should appeal to fans of the style and may even grab fans of metal/hard rock in general. There's nothing more to say.

/Hanging Limbs
6 august 2007 at Swedish site www.zeromagazine.nu:
IN SWEDISH
Rating: 7/10
Med ett omslag som det till Kaross debutalbum ber man nästan folk att inte köpa plattan. Konvolutet är verkligen inte inbjudande och först trodde jag att det var någon tillfällig lösning, innan det "riktiga" konvolutet var klart. Men det visade sig vara det riktiga jag hade i min hand. Så, kära läsare: försök att se förbi det fula utanpåverket och låna ett öra till den tunga hårdrock Kaross producerar istället. Den är nämligen värd bättre än att bli förbisedd. Bandet med härkomst i Skövde och Falköping måste ha lyssnat på Mustasch. Kanske inte så lite heller. Men sämre förebilder kan man ha och Kaross vräker på rätt bra när de kommer igång. Det här är tung, fet, stenad boogierock, hårdrock och rock n´ metal med ett driv som ger unga grabbar skäggväxt och får vilda flickor att klä sig i läder och hoppa in i raggarbilar. Ett utmärkt soundtrack till din nästa fyllefest således och jag gillar råheten, skiten och de grova gitarrerna. För fans av mer polerad metal går Kaross bort, för det här är mer av sandpapper på sårskorpor än inställsam reklammusik och det passar mig utmärkt. Sen kunde bandet visserligen ha skaffat aningen större egen personlighet och originalitet, men de bitarna kan nog komma på plats vid framtida släpp. Vill du ha ett fläskigt ös så är det bara att casha upp för Molossus och se på när polarna headbangar och lirar luftgitarr, medan krukväxterna kroknar och dör av den svettstank som fyller rummet.

/Robert Ryttman
26 july 2007 in Swedish mag www.swedenrockmagazine.com:
IN SWEDISH
Rating: 6/10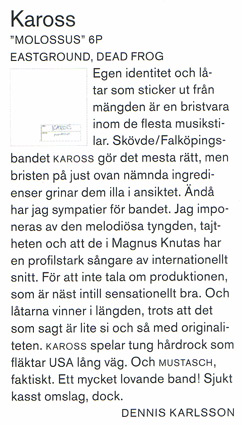 25 july 2007 at Danish site www.metalzone.dk:
IN DANISH
Rating: 4/6
Her har vi med endnu et svensk band at gøre. Og endnu engang i den rockede afdeling, i stil med Soundgarden /Audioslave, datidens 70'er bands og deres kammerater i Mustasch – bare en anelse mere beskidt og lige på.
Kaross startede i 2000 og har siden arbejdet på at opbygge deres omdømme og få en kontrakt i hus. I 2005 stillede Kaross op i den svenske musikkonkurrence partillerocken, vandt og fik dermed chancen for at indspille det debut album, jeg sidder med i hænderne nu.

Jeg er ikke den store fan af denne simple, næsten-stoner rock form og bliver det nok aldrig, hvis det skal være hiver jeg "Superunknown" ned fra hylden, men jeg er efter den første gennemlytning overbevist om at Kaross nok skal få et par afspilninger i fremtiden.
Nøgleordene for denne plade er nok; Stille og roligt. Et motto der passer undertegnede udmærket.

"Molussus" er en velspillet skive og flere af numrene har catchy guitar riffs og vokalen oveni det Chris Cornell lækker. Måske læner de sig lige lovligt meget op af Soundgarden, men med en mere moderne lyd. I modsætning til landsfællerne fra Mustasch, er Kaross i stand til at afveksle deres musiske udtryk, selvom det er svært i den genre, og skabe deres egen atmosfære.

Pladens ubestridte højdepunkt er "Chlorine", der sætter gang i nakketøjet og rykker håret rundt. En ordentlig omgang tung rock med den rå vokal af Magnus Knutas. Også på nummeret "John Dear" får vi bevis på hvad Hr. Knutas er i stand til og det er samtidig et af skivens mest stoner inspirerede numre. Jo længere tid man hører albummet, jo mere stoner rock bliver det.
Der er ikke så meget andet at sige om nærværende skive. Det er ligetil rock musik. Endnu engang vil jeg nævne Soundgarden og anbefale Kaross til fans af Chris Cornell og co.

/Wind
24 july 2007 at Finnish site www.imperiumi.net:
IN FINNISH
Rating: 7/10
Ruotsalainen Kaross vetelee pitkälti stoner rockin linjoilla. Saatekirje puhuu bluesista, metallista, punkista ja 70-luvun rockista, mutta näitä löytyy Molossukselta korkeintaan ihan pikku hippusina siellä täällä. Kyllä tässä nyt vain on kyse tuosta kivittäjä-rockista.

Toistaiseksi vielä melko nimetön yhtye osaa kyllä juttunsa: keski- ja hidastempoista rutistusta juuri sopivan rosoisella soundilla ja tyylisuunnan oppikirjasta poimitulla, mutta varsin hyvällä laululla tuettuna. Vaikka homma alkuun hyvältä kuulostaakin, puuduttaa levy puolen välin jälkeen. Kappalemateriaali on kovin samasta puusta poimittua ja 13 kipaletta samaa jyrää kertalaakina on yksinkertaisesti liikaa. Menevämmät palat, kuten letkeästi rokkaava Kiddo Blackout, saavat kyllä jalan tamppaamaan, mutta suurin osa on hitaampaa jurnutusta, josta kuultuasi yhden kappaleen olet kuullut kutakuinkin koko levyn.

Karossilla on kyllä hetkensä ja kundit ovat selvästi sellaista osaavampaa sorttia näissä hommissa. Seuraava levy näyttänee, nouseeko ryhmä genrensä kirkkaampaan kastiin. Potentiaalia siihen selvästi löytyy, mutta vaihtelua ja tarttuvuutta tarvitaan lisää. Ja seuraavalla kerralla voisi hitusen panostaa kansiinkin, nyt ne eivät ainakaan kaikessa karuudessaan ja muka-UG-hengessään houkuttele ostamaan levyä.

/Tuomas Valtanen
21 july 2007 at Danish site www.heavymetal.dk:
IN DANISH
Rating: 7/10
Svenske Kaross spiller på dette album, deres debut, en slags mellemting mellem stoner-rock og '70er-rock'n'roll. Musikken er generelt tung, grunget og lige ud af landevejen, hvad det melodiske og rytmiske angår.

"Molossus" starter tungt og slæbende med den ganske fængende "Crimson Skies", der giver mig associationer til både Wolfmother, Black Crowes og Soundgarden. Sidstnævnte association får jeg også på numre som "Meat Me", "15+" og "Cosmopolitan". Andre numre har en mere udpræget '70er-fornemmelse (tænk Black Sabbath), der gør en sammenligning med de to førstnævnte navne relevant – et nummer som "Bong Song" har sågar en lidt bøvet, Deep Purple-agtig bluesfornemmelse over sig. Ellers rummer albummet en del inspirationer fra Queens of the Stone Age, specielt på "Shovel", "John Dear" og den groovy "Lowrider".
Albummets tungeste nummer, "Chlorine" bringer mine tanker i retning af Alice in Chains, men det skyldes nok især Magnus Knutas' Layne Staley-inspirerede vokal på netop dette nummer.

Man kunne generelt også godt sammenligne Kaross med et band som Transport League, der også kombinerer næsten sludge-agtig tyngde med catchy melodisk rock. Andre vil måske få associationer til Entombeds seneste albums. Kaross' musik er dog i begge tilfælde mere sløv i optrækket. Det er ikke nødvendigvis et kritikpunkt, for hvis man er i et lidt sløvt humør, passer "Molossus" faktisk fint ind. Når jeg ikke er helt oppe at køre på Kaross, skyldes det, at jeg synes albummet som helhed er en anelse ensformigt. Bandet holder sig meget i samme type harmonier, og rytmerne er meget enkle, især i de hurtigere numre. Men er man i humør til en gang tung nogenlunde letfordøjelig baggrundsrock, er man ikke gået helt galt i byen med "Molossus".

/SRFM
18 july 2007 at Swedish site www.metica.se:
IN SWEDISH
Rating: 5/10
Skivdebuterande Kaross, bördiga från Skövde och Falköping har nog lyssnat på Corrosion Of Conformitys album 'Deliverance' och 'Wiseblood' fler gånger än jag gjort. Och då har jag ändå lyssnat MYCKET på de tvenne mästerverken.

Synd då att man emellanåt fastnar i ett rätt meningslöst Mustasch-gungande som låter som så mycket annat, när man istället kunde ha tagit fasta på den alltid så mäktiga amerikanska träskrocken (Crowbar, Down, och i viss mån Alice In Chains) och kletat ihop sin egen musikaliska Shrek av det hela.

Nåväl, trollet vid namn 'Molossus' är en rätt gedigen historia. Utan några riktiga bottennapp, men tyvärr också utan några egentliga höjdpunkter, är det inte någon speciellt minnesvärd debut Kaross har skapat. De har däremot i och med släppet av 'Molossus' placerat sig på kartan som ett lovande band att hålla utkik efter i såväl livemingel som på kommande alster.

/Jesper Hasselström
17 july 2007 at Finnish site www.rokkizine.fi:
IN FINNISH
Rating: 2,5/5
Kaross on ruotsalainen viisikko, joka on saanut alkunsa vuonna 2001. Lahden tältä puolen katsottuna Molossus on huippuhilpeä nimivalinta albumille, mutta ruotsalaisille se on varmaan jotain muuta.

Kaross soittelee rosoista stoner-rokkia, johon on saatekirjeen mukaan sekoitettu kaikenlaista lisämaustetta bluesista punkkiin. Eivät ne sieltä paljon kuulu, ainakaan minun korvaani, joten leimaan bändin tylysti stoneriksi - varsinkin kun levyn käynnistyessä ensimmäisenä mieleen tulee "huonommin tuotettu Mustasch".

Soundit ovat levyllä todella räkäiset. Kitarat surisevat, basso jurisee ja laulaja revittää ansiokkaasti. Ehkä tässä ovat sitten ne punk-vaikutteet. Oli miten oli, Karossin suttuinen ilmaisu toimii yllättävän hyvin. Laulu on hyvin esillä eikä levystä tule liian demomaista vaikutelmaa.

Biisit ovat kaikki aika lailla samasta puusta veistettyjä, vaikka hitaiden rokkipalojen seassa suihkiikin muutama nopeampi rypistys. Kappaleita on jokatapauksessa liikaa, ne kun eivät juuri erotu toisistaan. Biisien suurin ongelma on hyvien kertosäkeiden puute. Siellä täällä yllättävät kehnot efektit ovat varmaankin eksyneet väärälle levylle. Ruttuiseen rokkimeininkiin ne eivät nimittäin sovi.

Karossin deyytti vajoaa keskinkertaisuuteen, mutta bändillä on lupaavia aineksia, jotka jalostuessaan saattavat muodostaa yllättävän hyvänkin kokonaisuuden. Tuotannossa on paljon viilattavaa, vaikka poikkeuksellisen rosoisesta soundista ei kannatakaan kokonaan luopua. Myös laulaja Magnus Knutas osaa hommansa hyvin, ja on yksi levyn selkeistä vahvuuksista.
/Olli Ylioja
15 july 2007 at Norwegian site www.streetswebzine.com:
IN NORWEGIAN
Rating: 7/10
Du kan godt si at de to første sporene på denne skiva er Kaross i et nøtteskall; tung og bluesinspirert riffing, sterke melodier og fengende refrenger med en basis i metal og syttitalls-rock, en fenomenal innsats fra en rockevokalist som virkelig vet hvordan man skal synge og en rytmeseksjon som fokuserer sterkt på selve groovet og vet hvordan de skal holde på det! Det er plenty av variasjon fra den seige rockelåta "Meat Me" til den drivende og kjappe "Cosmopolitan" til den akustiske og lavmælte åpningen på "15+" (som forvandles til en blytung og balladelignende sak) til det brutale sludgemonsteret man finner i "Chlorine". Hver sang fokuserer på en stemning og jobber innenfor denne rammen, noe som er grunnen til at hver sang har en sterk identitet og er lette å skille fra hverandre. Jeg er ikke spesielt glad i "Lowrider", "Burned Circuit" og "bongpartiet" i "Bong Song", men bortsett fra det er "Molossus" ei utrolig sterk skive som jeg ikke har noen problem med å anbefale til de av dere med en interesse for god rock!

/Rune
15 july 2007 at Norwegian site www.streetswebzine.com:
IN ENGLISH
Rating: 7/10
You could say that the two first songs on this record are Kaross in a nutshell; heavy and blues-inspired riffing, strong melodies and catchy choruses with a basis in metal and 70's rock music, a great performance from a rock vocalist that really knows how to deliver the goods and a rhythm section that focuses on the groove and knows how to keep it! There's plenty of variation from the slow and groovy rocker "Meat Me" to the driving and up-tempo "Cosmopolitan" to the acoustic and drunken opening of "15+" (which turns into a heavy and atmospheric ballad-like tune) to the brutal sludge-monster of "Chlorine". Every song focus on one mood and works within this framework, which is the reason why each track has a strong identity and are easy to separate from each other. I'm not particularly fond of "Lowrider", "Burned Circuit" and the "bong part" in "Bong Song", but except for that "Molossus" is an incredibly strong record which I have no trouble recommending to those of you with an interest in great rock music!

/Rune
15 july 2007 at German site www.autona.com:
IN GERMAN
Rating: 3,5/5
DANZIG! Das fällt mir spontan ein und ändert sich auch im Verlauf des Hörens nicht und das liegt natürlich hauptsächlich an Sänger Magnus. Solide Rocksongs mit eigenwilligem Desertflair, auch wenn es in Schweden keine Wüsten gibt. Düster, dreckig, groovig, schwer und ausdrucksstark. Der Sound reiht sich perfekt ein und vermittelt eine Stimmung zwischen Danzig, Soundgarden zu Anfangszeiten, Godsmack und KYUSS. Kaum zu glauben, dass es sich bei Kaross nicht um Amis handelt, denn amerikanischer könnte sich eine Band dieses Stils eigentlich kaum anhören. Man stelle sich vor, im einen alten, verbeulten Mustang über die Highways von New Mexico zu cruisen - dann hat man in etwa einen Eindruck von Kaross. Unbedingt mal reinhören.
/Dennis
14 july 2007 at Norwegian site www.metal-norge.com:
IN NORWEGIAN
Rating: 5/10
Jeg får vel innlede som ved Taliban Airways-anmeldelsen med å si at dette ikke er min stil. Jeg er helt blank på denne sjangeren. Igjen er det litt skitten og fengende rock 'n roll det er snakk om, men jeg syns vel de allerede nevnte nordmennene i Taliban Airaways gjorde ei bedre debutskive enn hva svenskene i Kaross her debuterer med.

Skiva har hele 13 låter, og det blir mildt sagt litt i meste laget når de alle låter temmelig likt. Kanskje er dette blodig fett for de som digger stilen, men i mine ører så virker det som om gitaristen kjører relativt samme regla hele skiva igjennom – og det samme gjelder vokalisten. I sin monotoni og rytmiske stil glir alle vokalmelodiene bort i glemmekroken, og jeg skulle ønske bandet hadde kuttet ut omtrent halvparten av låtene.

Når dette er sagt så må det også påpekes at bandet ser ut til å være veldig bevisste på hva de driver med, og utførelsen av de 13 låtene er det ikke noe å klage på. Spillegleden er til stede, og til tider så fenger det litt også hos meg. Min favoritt må vel være "Cosmopolitan"; en låt med et fengende refreng og litt mer driv enn hva jeg får fisket ut av de andre låtene.
/M.L
7 july 2007 at Swedish site www.muzic.se:
IN SWEDISH
Rating: 4/5
När man får en sån här skiva skulle man bara vilja sticka ut hakan och säga "kom igen då! Gimme all you got" för att följas upp av en stor JÄVLA smocka rakt i ansiktet. PANG! När man ligger där på marken och kvider så är det bara att säga tack, resa sig och göra om det. Ett par riff in i "Chlorine" när trummorna kommer åker jag i backen bara av tryckvågen.

Jag tror att Kaross från Falköping med skivan "Molossus" har släpat gitarrerna genom en stenkross för att sedan ta in dem i studion och spela in skiten. Det är blytungt redan från början. Det doftar alltifrån tidiga Kyuss (MED Josh Homme) och Evil Superstars till Queens of the stone age "Songs for the deaf" skiva men i min åsikt såå mycket snyggare. Det är precis så här skitigt stoner-smock skulle ha varit redan från början. Inga jävla krusiduller. Det känns ungefär som att faktiskt ha fått en kaross från en Hummer i skallen.

Det går verkligen 300 band på dussinet i den här genren och jag skulle kunna namedroppa i flera timmar men det här räcker bra som det är. Särskilt imponerande är det då killarna endast har en gitarrist. Ett vacklande engelskt uttal hade sabbat halva skivan men det är något som Magnus Knutas sköter alldeles utmärkt eftersom det ska vara sydstats-åka-bil-genom-dammiga-öknar-och-kramas-med-präriehundar-i-en-öppen-bil musik.

För att vara en debutskiva är det här riktigt lovande och jag har svurit mycket när jag skrivit det här men det får ni ursäkta. Håll utkik efter Kaross. Nått stort är på gång för "Molussus" är nästan perfekt. Det enda som kan hållas emot den är att den är något jämntjock men det skiter jag faktiskt i.

/fredrik.bergstrom@muzic.se
6 july 2007 at Italian site www.perkele.it:
IN ITALIAN
Rating: 7,5/10
La scena scandinava continua a fornire linfa vitale alla scena stoner rock internazionale, memore di quanto nel corso degli anni passati ha saputo offrire a livello di band e relative pubblicazioni.
In questo caso è la Svezia a proporre una interessante e fresca realtà che risponde al nome di Kaross, giovane formazione attiva dal 2001 e giunta dopo la dovuta gavetta alla prima pubblicazione per Eastground Records. "Molossus" è il nome del debut di questi 4 ragazzi di Sködve, concentrato energico di riff e melodie che prendono spunto da diverse scene musicali, dal blues al rock, dal metal al punk. Un insieme di influenze ben rodate che si incarnano in quello stoner rock ruvido, dai riff essenziali ed incisivi, dalle ritmiche cariche di groove e potenza, il tutto condito dall'ottima performance del singer Magnus Knutas, variegato interprete di linee melodiche intriganti e ben studiate. Per essere all'esordio i Kaross vantano una maturità compositiva decisamente di alto livello e tutti i 13 brani che compongono "Molossus" si assestano su standard più che validi, permettendo un ascolto fresco e gradevole. Non è certo difficile cogliere i rimandi più o meno evidenti a Orange Goblin o Monster Magnet rimanendo nel territorio stoner rock, ma i nostri si lanciano senza timori anche verso confini meno prevedibili, specie per certe esplorazioni in regioni punk, ben presenti in alcuni refrain e cori energici, o verso le paludi del blues più disteso e passionale, il tutto convogliato in un'unica forma dal risultato assolutamente convincente.
Aggiungiamo una produzione davvero meritevole e un artwork tanto essenziale quanto originale e la lista degli elementi per fare di "Molossus" un disco di tutto rispetto sono al completo.
Una giovane promessa da tenere sicuramente d'occhio, partendo proprio da questa prima convincente prova.

/Marco Negonda
6 july 2007 at Swedish site www.groove.se:
IN SWEDISH
Jag vill passa på att (så här i efterhand) tacka juryn i Partillerocken som för drygt två år sedan utsåg Kaross till bästa band, en utnämning som så småningom ledde till att bandet fick skivkontrakt och kunde släppa denna skiva. Rent musiktekniskt är de enkla stoner/blues/metal-sångerna inte speciellt märkvärdiga, eller ens originella, men de fyller sin funktion med råge. Det är svängigt, tajt och tungt. Sångaren Magnus Knutas vet att variation berikar och gör emellanåt utflykter från det rockigt monotona till Layne Staley-vrål som kittlar i ryggraden. Resten av bandet behöver inte heller skämmas för sig.
Ett extra plus utdelas för humorn. Låttitlar som Shovel (som handlar om att sopa) och Meat Me är udda fåglar i den stelbenta rockvärlden, som alltför ofta tar sig självt på alldeles för stort allvar.

/Sanna Posti Sjöman
4 july 2007 at Danish site www.revolution-music.dk:
IN DANISH
Rating: 5/6
Allerede til tonerne af åbningsnummeret "Crimson Skies" ved jeg, at Svenske Kaross har noget godt at byde på. De har med "Molossus" udgivet en utrolig solid debutskive. De fire unge Svenskere leverer en sej og tung omgang Stoner Rock, og de gør det med en selsikkerhed og stil så man skulle tro, at de aldrig havde lavet andet.

Der er hentet inspiration fra bands som Alice In Chains, Queens Of The Stoneage og en lang række 70´r bands som Thin Lizzy og Black Sabbath. Men mest lyder Kaross som sig selv, det er møgbeskidt tung Rock´n´Roll. Jeg er specielt imponeret over Magnus Knutas ´s vocal; er du tosset han kan synge rock. Numre som "Shovel", "Kiddo Blackout" og "Jam" sparker så meget røv, at jeg er gul og blå over hele kroppen af at hoppe op og ned i takt med musikken. Nogen gange er jeg så begejstret, at jeg hopper helt derop hvor at luften er så tynd, at der ikke kommer ilt nok til min lille hjerne, og det eneste jeg kan når jeg lander, er at smile som en flækket træsko!
Det fede er, at skiven holder 100%; jeg har hørt den rigtigt mange gange nu, og elsker den højere og højere. Den kommer helt sikkert til at være en del af min sommers soundtrack, det er svært at få nok af den voldsomme distortion, og den energi som strømmer ud af højttalerne.
En tekst linie som denne:" Some Grass will Do When I´m Depressed, I´m A Bitter Man, Hope It´ll Ease My Pain", siger alt om stoner rock genren. Jeg tror virkelig, at mange af teksterne er skrevet i en ordentlig koger. Så lad os fyre en fed, høre noget velorganiseret larm, og skide på hele verden, for den forstår os ikke alligevel. Det er det, Kaross udstråler i deres musik, og det gør de så det ikke kan misforståes. Så nu er det bare med at få ild i piben, og nyde mine nye svenske venner en gang til!!!!
/Tonni Hansen, "In-Sane"
4 july 2007 at Swedish site www.joyzine.se:
IN SWEDISH
Rating: 2/5
Det är lustigt med små städer. Tanken om att bristen på sysselsättning leder till att det startas massa band är förvisso väl romantisk, men inom den scen som ändå växer fram brukar sammanhållningen vara god. Alla känner alla och samarbetar till höger och vänster. Därför känner jag igen så gott som samtliga namn i Skövde-baserade Kaross booklet. Inte för att jag nödvändigtvis känner herrskapet (jag tillhörde väl i ärlighetens namn andra falanger på den tiden jag fortfarande bodde där), utan för att det är folk som under lång tid knutits till den bräckliga Skövde-scenen. Bandmedlemmar från ett gäng andra lokala akter (varav den viktigaste är Staireos trumslagare Sebastian Forslund som mixat skivan) vimlar förbi, ja rent av bekanta tatuerare och byråkrater dyker upp i tacklistan.

Det är ganska fint att sammanhållning kan byggas så bastant kring musik, men det för samtidigt med sig en stor nackdel. Inbördes beundran! Folk i små städer känner sig ofta tvingade att gilla sina egna. De gör det ofta helt utan att ifrågasätta. Här i Norrköping hyllas exempelvis popgänget Eskju Divine besinningslöst enbart på grunderna att de är en lokal grupp som nästan lyckats. Skövde har fått ställa sig bakom gubbkrisande Enemies och nu även Kaross.

För visst, jag kan inte klaga på bandets samspelthet eller skicklighet när de pressar fram sin smyggrooviga rockmusik. De spelar rent av väldigt bra och har i Magnus Knutas en lagom uppkäftig sångare. Men "Molossus" är en väldigt anonym historia. Att stuket har hörts förut (kör Monster Magnet, Mustasch, Audioslave och Spiritual Beggars i en mixer och ni har Kaross) ska inte spela någon roll. Genren är tämligen statisk och fungerar bara man har låtarna.

Men bortser man från skönt svängiga Shovel hittar jag inga större ljuspunkter på "Molossus". Det är kompetent grooverock som spelar genom 13 spår, men som vägrar att göra några avtryck. Jag sugs inte in och jag minns knappt någonting när plattan snurrat färdigt. Vilket inte är något vidare gott betyg till ett svängigt rockband.

Om omvärlden är inne på min linje, vilket jag skulle tro att den är, förblir Kaross enbart en lokalangelägenhet även efter "Molossus". Men det behöver kanske inte vara fel, i Skövde åtnjuter de ju i alla fall uppskattning.
/Mikael Mjörnberg
24 june 2007 at American site www.sleazegrinder.com:
IN ENGLISH
What, do you think it's a coincidence that Kaross looks like Kyuss? Well, it is not, sir. "Molossus" is chock-full of very accomplished Swedish stoner rock. Your crotch will thank you.
20 june 2007 at Swedish Urkraft webzine:
IN SWEDISH
Rating: 3/5
Tung och gungig rock i den tyngre skolan är vad som bjuds när killarna i Kaross här bjuder in sina lyssnare på jungfruresa. Referenser till band som Kyuss, Queens of the Stone Age och Fu Manchu är oundvikliga men det ska tilläggas att Kaross gör sin grej djävligt bra. Personligen är jag inget större fan av ovannämnda akter men att "Molossus" bör fungera hos redan inbitna pundare av dessa är inte en alltför vild gissning. Allra bäst blir det när musiken stundvis andas Alice in Chains, som till exempel i excellenta "Meat Me". Gillar du röjig rock n' roll ska du kolla upp Kaross och därmed basta!
/Stefan Lejon
18 june 2007 in Swedish mag www.closeupmagazine.net:
IN SWEDISH
Rating: 5/10


14 june 2007 at German site www.burnyourears.de:
IN GERMAN
Rating: 6/10
Die schwedische Band KAROSS meldet sich mit ihrem Debüt "Molossus" erstmals außerhalb von Schweden zu Wort. In ihrem Heimatland konnte sich die 2001 gegründete Band durch ihre ausgiebigen Live-Aktivitäten und den Gewinn einer großen schwedischen Bandwettbewerbs eine zumindest regionale Bekanntheit erarbeiten.

Stilistisch würde ich das Quartett am ehesten dem Stoner Rock zuordnen, auch wenn sie nicht wie viele Genrekollegen durchgehend nur auf totales Brett und eine möglichst schwere Soundwand setzen.
Trotzden ist Distortion offensichtlich ein Lieblingseffekt der Schweden und so klingen die 13 Stücke alle relativ ähnlich. Dieses recht genretypische Problem werden Stoner Fans großzügig übersehen können. Fans der echten 70er werden dagegen gerade die Feinheiten vermissen, die ihre Lieblingsmusik so unverwechselbar gemacht hat.

KAROSS haben sicher ein auch für Genreneulinge gut hörbares Album gemacht, doch wirklich innovativ sind die Schweden dabei nicht und ob "Molossus aus der Masse ähnlicher Produktionen hervorstechen wird, darf bezweifelt werden.
Thorsten
9 june 2007 at German site www.bright-eyes.de:
IN GERMAN
Rating: 10/13
Das schwedische Label Eastground Records hat uns mit "Molossus" - der ebenfalls schwedischen Gruppe KAROSS - eine ziemlich ordentliche Scheibe zukommen lassen. Zu diesem Schluss könnte man jedenfalls dann gelangen, wenn man auf treibenden Heavyrock steht, irgendwo zwischen Stoner Sound und leicht alternativen Vibes. Die Skandinavier spielen sehr eindringlich und mit Schmackes, dennoch lassen ihre Tunes nie eine gewisse spitzbübische Rock'n'Roll-Frische vermissen und so läuft einem die Chose echt gut ins Ohr. Wer Bands wie Monster Magnet, The Cult, Buckcherry und alte Danzig geil findet, wird auch mit "Molossus" schnell klarkommen. Kaufmöglichkeit: www.cdon.com

10 von 13 Augen
Bernd Joachim
7 june 2007 at German site www.allschools.de:
IN GERMAN
Rating: 7/10
KAROSS haben sich in Goteborg und Umgebeung bislang nur durch Live-Auftritte einen Namen machen können. Trotz 5 jähriger Bandgeschichte gelang es ihnen erst 2006 einen Plattenvertrag zu ergattern und mit "Molossus" ist nun ihr erstes Album via Eastground Records auf den Markt gekommen.

Die Band zeichnet sich aus, durch deftigen Gitarrensound und einer schnörkellosen Stimme von Sänger Magnus Knutas. Die Musik liegt irgendwo zwischen Rock'n'Roll, Punk, Metall und Blues. Wenn ihr euch jetzt fragt, wie das sich anhört.... Gar nicht so schlecht! Auch wenn es nach einiger Zeit manchmal langweilig wird gibt es doch immer wieder Phasen in denen man von den stark melodischen Lieder mitgerissen wird und man nicht weghören kann. Der eingängige Gesang und die harte Gitarrenriffs dominieren die Heavy Rock Kompositionen des Albums. Unter anderem erkennt man Einflüsse von Bands wie THE QUILL, MONSTER aber auch von BLACK SABBATH, diese insbesondere im hinteren Drittel der CD.

Alles in allem hat KAROSS mit " Molossus" ein stabiles Album erschaffen, welches sicherlich Chancen hat in der Szene auf viel Begeisterung zu treffen.
/Tom
4 june 2007 at Norwegian site www.beattheblizzard.com:
IN ENGLISH
Rating: 6/10
Here's another Swedish band that I really enjoy listening to.
KAROSS is a bunch of young & clever dudes and they know very well how to pull it off. "Molossus" proves that this band has something big going on.
I'll tell you more about what I think of the music and the musicians' talent in this review. But first; what genre is the most relevant for put KAROSS in? That would be the stoner rock genre - without a shadow of doubt.
Then, take the band's name… KAROSS, right? A name like that brings up clearly defined associations. KAROSS vs. Kyuss…
Oh, yes, there's a lot of tipping one's hat to legendary Kyuss on this album. KAROSS do have some of the same sound and distorted riffs and overall atmosphere in their music as Kyuss had at their peak in the nineties.
But there's more to it; Cathedral is obviously also a band the young Swedes have drawn a lot of ideas and inspiration from.
And I'm sure I could mention a few more stoner bands from their heydays in the nineties.

Is this a good or a bad thing? Not necessarily bad as everything that's good have been done before. Everything KAROSS does on "Molossus" is nothing new under the red sun.
But that doesn't make this an album that sucks. Not at all.
The songs, the playing, the dirty sound, the Lee Dorian influenced vocal style and the production are perfect.
But maybe there's still something missing? Do this band have an identity of their own? It's not that easy to catch sight of this KAROSS identity, I got to admit that… I'm sure it's there somewhere and I do hope that it will appear better on the next album.

To me there's a little too much music giving med associations to other bands than KAROSS on "Molossus"…
AJ Blisten
4 june 2007 at German site www.helldriver-magazine.de:
IN GERMAN
Rating: 6/7
Bei Schweden, erst recht bei Göteborg, denkt man ja gleich mal an derbe Knüppelkost, Kaross aus dem schwedischen Ödland orientieren sich aber eher in Richtung New Orleans-Sound a la Down & Co.. Nachdem die Band sich schon seit über fünf Jahren im heimischen Underground abstrampelt hat man fürs neue Album mit Eastground Records im letzten Jahr endlich ein Label gefunden. Und die Eastground-A&Rs haben wohl ein gutes Händchen, denn "Molossus" kann was! Der zweite Track "Shovel" z.B. klingt nach einem Jam aus C.O.C. mit Glen Danzig am Mikro, "Jam" an fünfter Stelle erinnert dann gar an The Cult und Onkel Astbury. Durch alle Songs zieht sich ein roter Faden in Form von fettestem Groove, einem herausragenden Sänger (Magnus Knutas) und knarzig sägenden Gitarren. Das hat man von den genannten Herren in letzter Zeit auf jeden Fall in der Klasse nicht mehr gehört! Im weiteren Verlauf der 13 Songs tendiert das Material auch mal etwas in Richtung Heavy Rock und verneigt sich hier und da hörbar vor Helden wie Led Zeppelin ("Lowrider") oder auch Black Sabbath, das alles aber mit ner ordentlichen Kante und ohne übertriebene, ellenlange und sinnlose Soli. Bleibt zu hoffen, dass das Label dem Quartett und seinem Album die Aufmerksamkeit verschaffen kann, die es verdient!
(tj)
30 may 2007 at Swedish site www.musikrecension.se:
IN SWEDISH
Betyg: 4 av 5
Kaross – Lite som en våt pojkdröm
Influenserna finns där. Klart och tydligt.
När man lyssnar på Kaross behöver man inte anstränga sig för att kunna se Layne Staley (Alice in Chains) framför sig – eller för att höra Josh Homme (Kyuss) leka fram riffen under tiden som Justin Chancellors (Tool) fingrar på basen till Aaron Harris (Isis) karaktäristiska trummande.

På Molossus, som är Kaross debutskiva, hittar man inspirerade fragment från flera skivor. Främst från band såsom Fu Manchu och Queens of the Stone Age. Men samtidigt är det omöjligt att beskylla bandmedlemmarna för plagiat, eftersom de har tagit den något inskränkta stonerscenen ytterligare ett steg och blandat in oväntade genres såsom punk, hardcore, death metal samt – hör och häpna – glamrock.
På pappret kan det låta som ett ytterst splittrat koncept, men de begåvade bandmedlemmarna har lyckats baka in alla element med en så pass klanderfri fingertoppskänsla att skivan – trots sina avvikande ambitioner – flyter ihop till en fungerande helhet på ett obemärkt, nästan elegant, sätt. Resultatet är en oförskämt underhållande skiva, med en kreativ drivkraft som ständigt håller åhörarens intresse vid liv.

Med Molossus lyckas Kaross erbjuda en eklektisk kavalkad som inte bara delar med sig av den musikaliska lekfullhet samt de nyskapande intentioner bandet tveklöst måste ha känt då de spelade in albumet, men som även vågar hålla en seriös ton utan att bli vare sig pretentiös eller förutsägbar.
Detta i kombination med en utmärkt produktion som framhäver bandets alster alldeles ypperligt gör Molossus till ett av de mest intressanta skivsläppen på väldigt, väldigt länge – oavsett genre.

Rekommenderas varmt.
Tomac Barin
28 may 2007 at American site www.metalreviews.com:
IN ENGLISH
Rating: 71/100
Kaross are a four piece stoner rock outfit who have been riding a wave of success lately. After winning Partillerocken 2005, which, though I'm not familiar with, is a longstanding annual battle of the bands contest, the band was chosen to be the inaugural signing of newly formed label Eastground Records. Their debut album, Molossus, marks the proper beginning of the careers of both the band and the label.

The style of music Kaross play is one of deep, sludgy stoner rock. The guitars are supremely distorted, giving Molossus a sort of muddy quality. This takes little time to develop, as the opening single, Crimson Skies, begins with a distorted bass intro riff, which is simple yet effective. Once the bluesy guitars drop in, the music is absolutely drenched in low-end distortion, making for one of the thickest sounding rhythm sections I have heard in quite some time. The vocals of Magnus Knutas are sung in a low and grinding way. The comparison that immediately comes to mind is Lee Dorrian in his Cathedral capacity. The riffing is almost funky at times, and it really seems like the band is having a lot of fun here. Knutas shows off his range on the next track, Shovel. He lets loose a few times to hit higher octaves while still managing to keep the guttural and distorted tone to his voice. The vocals are further toyed with on Meat Me, adding harmonized portions for the chorus for fine results. You'll notice that I've been focusing on the vocals a bit. This is due to the biggest detraction for Molossus, the repetitive sound of the riffing. This problem is common among bands of this style. That is not to say that the riffing is not well performed or written, but it is much better in small doses as you'll start to feel like you're going in circles by about the fifth track, Jam. The clean, southern rock type intro to 15+ is a nice change of pace, though, and goes a long way towards combating this issue. Lowrider tunes up the funk style of riffing, making them the focal point of the song. On a side note, you might have guessed from the genre description that the band is fond of a certain plant. If you didn't pick up on that, the samples of pipes being lit and bong water bubbling should tip you off. If somehow, you still managed to miss this theme, the funky guitar showcase Bong Song should hammer the point home. A head nodding riff dominates the proceedings, and is accented by one of the few solos found on Molossus. Being a fan of doom, Chlorine is right up my alley. A darker atmosphere surrounds the song, and the chunky riffs are played much slower than the rest of the album, which makes them seem much heavier in my opinion.

Molossus is a good first effort, and it is easy to see why Kaross were chosen as the flagship act for Eastground Records. The production is outstanding and the riffing sounds great. I doubt I could ever consistently listen to this album all the way through because of the repetitive style, but I will surely return for a couple tracks at a time. Fans of Black Label Society or Monster Magnet should find more than enough to enjoy with this release.
Killing Songs: Crimson Skies, Bong Song, Chlorine
Adam
27 may 2007 at Swedish site www.musiklivet.com:
IN SWEDISH
Distad rock 'n' roll
Med sex år sen starten och seger i 2005 års upplaga av Partillerocken i bagaget vankas det nu debutvax av kvartetten från Falköping/Skövde. Pressbladet beskriver musiken som distad rock 'n' roll och det är inte någon missvisande beteckning. Närmast kommer jag att tänka på öken/stoner rock och beundrare av Dozer, Fuzzorama-ettiketten och de lite välkändare akterna i genren vässar säkert öronen även av Molossus. Black Sabbath tunga riff, en bra sångare och digert med både groove och melodi är ingredienser som gör exempelvis Kiddo Blackout till en bra låt. Och fler såna finns att hämta här.

Textmässigt har de inte mycket att dela med sig av till eftervärlden. Särskilt illa dolda drogreferenser i 15+ och Bong Song känns extra onödiga, men även överlag är det rätt platta beskrivningar av i stort sett ingenting alls. Synd när de övriga förutsättningarna för ett bra resultat finns där.
ROGER BENGTSSON
22 may 2007 at German site www.bonemetal.de:
IN GERMAN (See English version below)
5,5 von 7 Schädel (0 = grausam, 7 = sehr gut)
""Molossus" ist das Erstlingswerk der Schweden KAROSS, doch rocken die Jungs dreckig wie die großen hinter dem großen Teich. Bester Stoner Rock lässt jedes Wohnzimmer so völlig untypisch für die Nordmannen in einer Staubwolke zerbersten.
Nachdem das Demo der Band bei Eastground Records bereits für euphorische Gänsehäute sorgte, wurden die Rufe nach einem Full-Length-Album immer lauter. Danach standen einige Live-Gigs auf dem Plan und nicht ohnehin gewann KAROSS 2005 den Bandcontest "Partillerocken" bei Gothenburg, bei dem sie um die 40 Bands in der Wüste stehen ließen. Schnell war so auch der Plattenvertrag in der Tasche.
Schließlich sollte ein Debüt aufgenommen werden, was dann mit "Molossus" im Jahre 2006 auch endlich angegangen wurde. Doch warum ist das Release erst im Mai 2007? Nun, die Aufnahmen wurden das ganze Jahr hinweg auf die Beine gestellt und akkurat abgeschlossen. Der Feinschliff, sowie das endgültige Mixing waren dann Aufgaben, die in das neue Jahr mitgenommen wurden.

Und das Ergebnis kann sich wirklich sehen lassen: "Molossus" ist ein sehr grooviges Album geworden, das über die gut 42 Minuten hinweg nichts an abwechslungsreichen Riffs einbüsst. Das liegt in dem sonst etwas schläfrigen Genre des Stoner Rocks durchaus nicht immer an der Tagesordnung.
Gut, wer schnelle Soli, einen eng geknüpften Bassdrumteppich und klare Vocals erwartet ist hier vollkommen falsch. KAROSS macht herrlich dreckigen Rock ´n' Roll, der bei heissem Wetter und jeglichem Aggregatzustand eine gute Wahl ist."
Grinch
22 may 2007 at German site www.bonemetal.de:
IN ENGLISH (original English by reviewer, not translated)
(See German version above)
Rating: 5,5 of 7
"Molossus" is the first work of the Swedes KAROSS, however the boys rock messy like the big ones behind the big pond. Bestest Stoner Rock lets each living room burst so completely atypically for the Northmen in a cloud of dust.
After providing the demo tape of the band Eastground Records already got euphoric goose bumps and the calls for a full length album became ever louder. Some live-gigs stood on the plan after this and KAROSS won not anyway the band contest "Partillerocken" near Gothenburg, with which they abandoned 40 bands approximately in the desert. Also the album contract was safe fast so.
Finally a debut should be recorded which was finally done with "Molossus" in the year 2006.
But why is the releasing date in May 2007? Now, the recordings took the whole year and were done accurately. So the final honed mixings had to be taken into the new year.

And the result is quite impressive: "Molossus" became a very groovy album, that doesn't lose anything diversified riff away over the about the whole 42 minutes. This really is not always the handwriting of the genre of Stoner Rock.
Well, whoever expects fast guitar solos, a narrowly tied carpet from the bassdrum and clear vocals finds himself absolutely wrong here. KAROSS plays marvelously messy Rock `n` Roll, that is a good choice during hot weather and all physical states."
Grinch
16 may 2007 at Swedish site www.musikindustrin.nu:
(part of newsletter)
IN SWEDISH (See English version below)
"Kaross är ett band som bildades 2001 av medlemmar från Skövde och Falköping och sedan tre år tillbaka har man bestått av kvartetten Magnus Knutas, Markus Neuendorf, Mikael Berggren och Fredrik Lösnitz. En demo lockade Eastground Records att skriva kontrakt med gruppen, och efter seger i Partillerocken 2005 började inspelningarna av debutalbumet Molossus [Eastground] som nu ligger klart. Tung distad bluesrock av 70-talssnitt är grunden i bandets musik, och det är ett klart imponerande debutalster de nu presenterar."
16 may 2007 at Swedish site www.musikindustrin.nu:
(part of newsletter)
IN ENGLISH (translated, see Swedish version above)
"Kaross is a band that was formed in 2001 by members from Skövde and Falköping in Sweden. Since three years back in time the quartet consists of Magnus Knutas, Markus Neuendorf, Mikael Berggren and Fredrik Lösnitz. A demo caught attention from Eastground Records to sign a record deal with the band, and after winning "Partillerocken" 2005 they started recording their debut album "Molossus" [Eastground] which now is finished. Heavy distorted blues rock with a touch of the 70´s is the bands musical base, and it´s definitely a impressive debut album they now have delivered"
16 may 2007 at German site www.powermetal.de:
IN GERMAN (See English version below)
"Kaross stammen aus der schwedischen Provinz, haben sich aber dank regelmäßiger Live-Gigs auch in der Umgebung um Göteborg bereits einen guten Ruf erspielen können. Nach ganzen fünf Jahren im Underground ist es der Band schließlich gelungen, 2006 den ersten Plattendeal an Land zu ziehen, dessen erstes offizielles Resultat dieser Tage unter dem Namen "Molossus" auf den Markt kommt.
In einem guten Dutzend riffbetonter Nummern bietet das Quartett hier furztrockenen Groove-Rock mit leichten Wüsteneinflüssen und gutem Stoner-Einschlag. Elemente von Bands wie THE QUILL und MONSTER MAGNET sind ganz deutlich in das Material eingeflossen, während im Hintergrund immerzu die Sonne von Palm Springs auf das Material strahlt. Statt ellenlangen Jam-Sessions gibt es auf "Molossus" allerdings recht straighte Songs und zumeist auch recht eingängigen Heavy Rock zu hören. KAROSS legen zwar gehobenen Wert auf einen fetten Sound und heben innerhalb dessen auch immer wieder die drückenden Gitarrenwände hervor, zieren die Kompositionen jedoch stets mit einprägsamen Melodien und ganz anständigen Hooklines. Gut die Hälfte des Materials rutscht butterweich durch die Ohren, wohingegen flottere Stücke wie 'Bong Song' und 'Cosmopolitan' konträr dazu ein paar zünftige Arschtritte verteilen. Dazwischen gibt's Grooves, Groovs und nochmal Grooves und ab und zu auch modernere Ingredienzen, wie etwa die Stakkatos in 'Chlorine'. Aber auch die Roots, die ganz klar bei Bands wie BLACK SABBATH und bisweilen auch LED ZEPPELIN liegen, werden nicht vernachlässigt und kommen insbesondere bei schnörkellosen Rocksongs wie 'John Dear' und 'Burned Circuit' zum Voschein.
Trotz der verschiedensten Inhalte bleibt "Molossus" über die gesamte Dauer ein sehr homogenes, dennoch recht abwechslungsreiches Album, das zwar einerseits einen leichten Hang zum Mainstream hat, sich dabei aber definitiv nicht anbiedert. Mit fetten Groove-Monstern wie 'Kiddo Blackout' und 'Lowrider' sollte es den Schweden nicht schwer fallen, ein größeres Publikum für diese Platte zu begeistern - und jenes wird sich zweifelsohne aus Rockern und Kuttenträgern konstituieren. Ein weiteres Plus für "Molossus", dessen Bedeutung man nicht unterschätzen sollte!"
Anspieltipps: Crimson Skies, Kiddo Blackout, Bong Song, Cosmopolitan
Björn Backes [16.05.2007]
16 may 2007 at German site www.powermetal.de:
IN ENGLISH (translated, see German version above))
Kaross comes from the Swedish country side. Thanks to regular live gigs they´ve made them selfes a name around Gothenburg. After five years on a demo level without a record deal they finally got signed in 2006. The first official result of this came out in May 2007 under the name "Molossus".

With around a dozen of riff based songs the quartet delivers dry groovy rock with some fine stoner elements. Inspirations from bands like THE QUILL and MONSTER MAGNET are obvious, while the Palm Springs sun shines on the material. Instead of miles long rehearsals you can on "Molossus" hear quite open hearted songs as well as heavy rock. Kaross values a thick sound for sure and always give priority to heavy guitar walls, but also decorates the compositions with nice working melodies and very decent hook lines. More than half of the material is smooth compared to harder songs like "Bong Song" and "Cosmopolitan". In between there are groovy, groovy and yet groovy songs on the album and here and there even modern ingredients like the stakkatos in "Chlorine". The roots of the music are not neglected, which clearly comes from bands like BLACK SABBATH and even sometimes from LED ZEPPELIN. These bands are most obvious in straight rock tunes like "John Dear" and "Burned Circuit".

Despite to a versatile content "Molossus" becomes a both homogeneous and variated album. In a way it is a mainstream album even though it´s not accessible to all listeners. With heavy groovy songs like "Kiddo Blackout" and "Lowrider" it wouldn´t be difficult for the Swedes to fascinate a bigger audience with this album that, without a doubt, will consist of rockers as well as mainstream listeners. That is a big plus for "Molossus" that shouldn´t be underestimated.

Song tips: Crimson Skies, Kiddo Blackout, Bong Song, Cosmopolitan
Björn Backes [16.05.2007]
9 may 2007 at Danish site www.metal-revolution.com:
IN ENGLISH
Rating: 69/100
"It is always hard to write a review on a band that you've never heard of before, but someone has to do it anyway. Kaross is a quartet from neighbouring Sweden and they play what I would call a mixture of straight forward rock n roll and more punk, metal and blues orientated music. This mixture of a lot of opposite and competing genres is what I like most about this band. It sure makes them unique and much different from anything I've heard recently. The band is formed in late 2001, so it is understandable that Molossus is their debut album.
There are many nice moments on this disc, starting off with great singing vocal performances of Magnus Knutas to great songs, well structured and interesting lyrics, to excellent musicianship by other band members as well. The problem I had with these 13 tracks long disc is not so much on the musical side, but more towards production and sound. It is messy and at times I really felt pain in my ears, deep and pain evolving sound is not the best way to present your otherwise very decent debut album, guys! Still I can recommend this simple judging by artwork and cover, but very complex judging by music, disc for any fans of Alice in Chains, Thin Lizzy, Crowbar, Fun Manchu and even Guns n Roses."
bato